Mr Oleg Gorbulin participates in the High-Level Singapore Business Federation mission to Russia
17th of May, 2016.
Alpha Pacific Group's senior partner, Mr Oleg Gorbulin, together with the delegates from the Singapore Business Federation, took part in the high-level business mission to Moscow, Russia from 15th – 18th of May, 2016.
The objectives of the business mission are to: understand  market  conditions of  Russia, network and establish useful contacts with officials and businessmen and explore and identify new business and investment opportunities in Russia.
On the 17th of May, Mr Gorbulin took part in the networking lunch, together with the Prime Minister of Singapore Mr Lee Hsien Loong.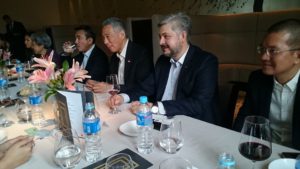 "The objectives of this mission are for delegates to gain a first-hand understanding of the market dynamics and emerging sectors in light of recent developments, and establish useful business and official contacts through our network of business associations and chambers, investment and trade agencies and professional services." (http://www.sbf.org.sg/)